I got my Lyme diagnosis, I got my treatment, and my Lyme doctor said he didn't think I was exhibiting any signs of Lyme disease anymore. Great, right? Except… not. Because I still felt like crap. So then I began to wonder: did I have yet ANOTHER underlying chronic ailment?
Back to the drawing board…
I returned to my usual source of information: the internet. It didn't take me long to think of a condition I should look into: hypothyroidism. It was one that had come up when I was looking for a reason for all my joint pain, but because joint pain is only one of my symptoms of hypothyroidism, I had decided that wasn't the problem. Now I gave the condition another look.
I realized that not only did I have the three biggest symptoms of hypothyroidism–weight gain, fatigue, and depression–but they had all begun approximately at the same time, around the time I began my PhD. Before that time I had had anxiety (probably caused by Lyme) but not depression, had gained approximately 10 lbs or less in 10 years, and if I didn't get my weekly allowance of dance classes–or even if I did–I ended up dancing around the living room. But then I developed depression, which hadn't really responded well to medication, I had gained approximately 40 lbs in about 5 years, and I had quit dancing altogether and could barely get myself out of bed to go to work in the mornings.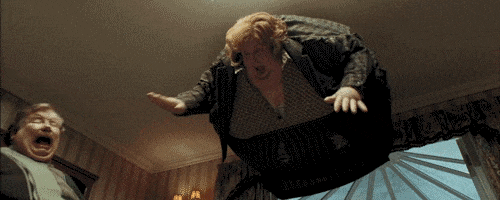 I was beginning to feel rather like Aunt Marge, only less buoyant.
A lot of the other symptoms sounded like me, too: unexplained shoulder and hip pain (which my Lyme doctor didn't seem to think was being caused by Lyme), carpal tunnel, exhaustion after exercise, irregular menstrual periods, heavy bleeding, PMS, brain fog, bloating and digestive discomfort, headaches, dry skin and hair, and hoarseness. Not to mention that having endometriosis greatly increases your chance of hypothyroidism, Lyme disease can actually CAUSE Hashimoto's hypothyroidism (the most common kind), and my mom and my grandma had both had it.
I had had my thyroid tested in the big, useless blood panel my doctor ran on me during the summer when she refused to believe I had Lyme disease, and it had come back normal. However, I soon learned that this test alone–the TSH blood test–was often not enough to diagnosis hypothyroidism. So yet another black mark against my ex-doctor… I had just been to my GP a couple of days before, so I didn't want to go back to him again already, and I had an appointment with my ob/gyn coming up, so I decided to ask her for a referral to an endocrinologist. I even discovered that there was a doctor in the medical system I go to who was an expert on thyroid and was mentioned on the American Thyroid Association website! I got my referral to her, and was all cheerful because things were happening, and maybe this could fix stuff for me.
I was as excited as a… pineapple.
When I didn't hear back from the endocrinologist for a week, I called to see what was happening with the referral. Their office had gotten it a week before, but hadn't called me to set up the appointment. So, after a lot of delays on the phone, they set it up with me for the soonest possible date:
March 23rd.
Three months. I had to wait THREE MONTHS to even BEGIN to get the blood tests I needed to diagnose a problem that had gotten so bad, I couldn't even work more than two days in a row! As I said to my dad, if I was having a heart attack every day, would they make me wait three months to see a doctor about it?? (His answer was, "…The obvious answer is no, but I'd hate to commit myself.") I was super, SUPER upset. I had been surprisingly cheerful the last week or so simply because I thought I could soon do something about my depression, exhaustion, weight gain, etc, and now it was being put off for at least three months. And that wasn't good enough.
Then I had a brilliant idea. My Lyme doctor (may he be blessed) had a few posters up around his offices that talked about thyroid. So I called his office and asked if he treated thyroid. Sure enough, he does! So I asked to make an appointment. They said, "How's this afternoon sound?"
THAT SOUNDS FANTASTIC.
So I drove the hour and a half to see my Lyme doctor, and boyyyy, was it worth it. I told him about the Big Three symptoms–never even got to the minor ones, or my family history. He asked if I had problems with dry skin and hair, I said yep, and he said, "I'm going to start you on some meds and see if they help. How does that sound?"
WHAT IS IT WITH YOU PEOPLE AND ASKING STUPID QUESTIONS?
This, by the way, is not the way the endocrinologist would have done it. She probably would have done a full thyroid blood panel on me first. And it would have taken that much longer to figure out what was wrong with me and start treating it.
As it is, I'm taking desiccated thyroid (DRIED-UP PIG THYROID, for those who are wondering!) every day for six weeks. I started off on one pill a day, and my doc says that if, at the end of three weeks, the fatigue hasn't begun to resolve, I should up my dose to two pills a day. Then we reconvene and see if it helps.
Some people react almost immediately when they start taking meds for their hypothyroidism. I didn't–but that might be partly because I came down with a bad cold the first day I started taking them! I am now almost entirely over the cold–and today I feel *wonderful*. It's over fifty degrees and sunny outside, I don't have to work for another week, I'm visiting my friend Jen tomorrow, I finished up my book manuscript for the publisher yesterday, God knows what my hormones are doing… And possibly for any of these reasons, I feel great. I took *two* walks today–that's right, TWO! I'm really crossing my fingers that the thyroid meds with make me feel human again–less Marge-like. I want to have the old me back. Today, it feels like I'm on my way.