I was invited to a Mary Kay party this week. It was easy to say no to, because I no longer live in the state where the party is being held.
But that's not the only reason I'm not going. I have sworn never to go to a make-up sales party again.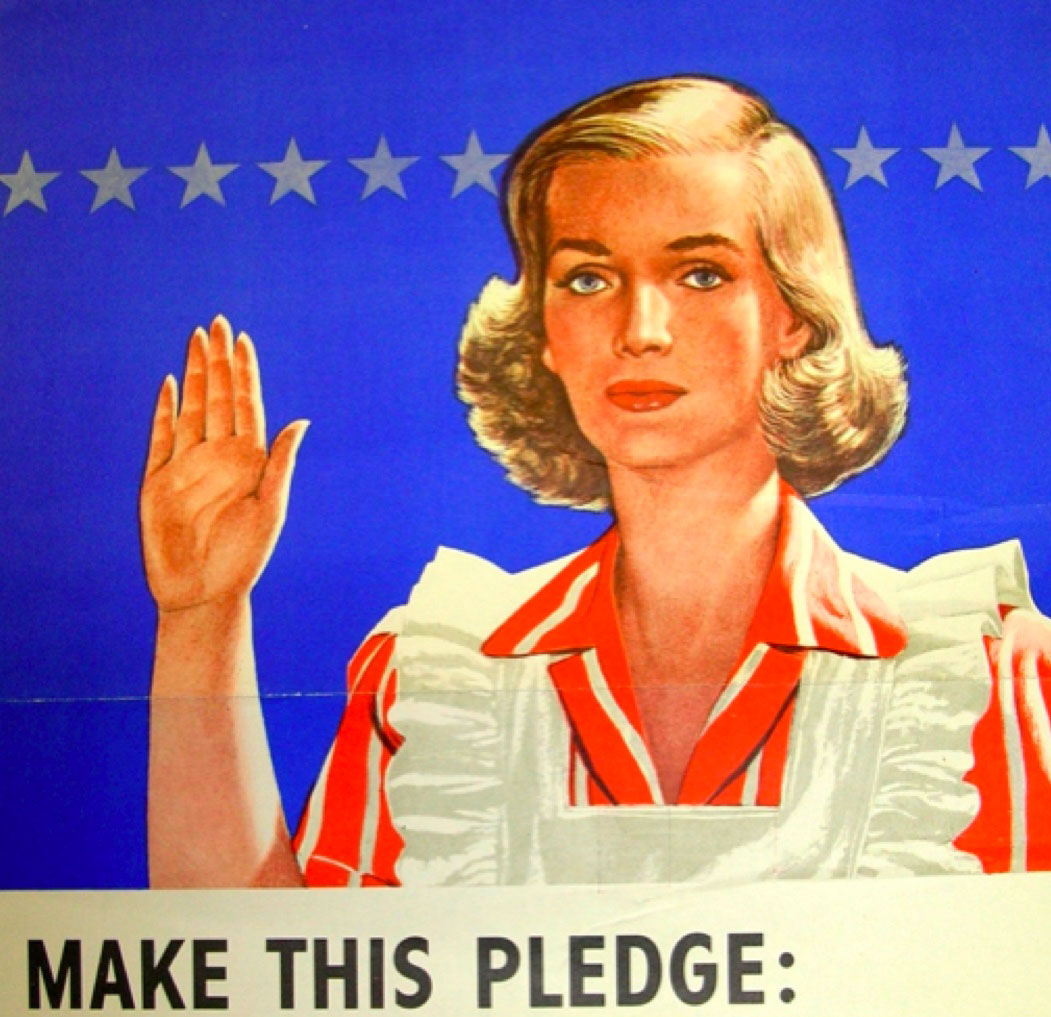 Say Nay to Mary Kay!
Now, I don't have anything against Mary Kay specifically as a company (though there ARE people who believe that, due to its intense emotional atmosphere and questionable business practices, the company essentially functions like a cult). But Mary Kay–and all other make-up companies that I'm aware of–are tied into an entire network of stuff that is bad for women's equal rights in society, women's mental and emotional well-being, and my mental and emotional well-being in particular.
I'll tell you the story of how I decided Mary Kay was bad for me.
A couple of years ago, I was invited to a Mary Kay party. It was held at our church, and the saleswoman was just one of the SWEETEST women I have ever met in my life. We played the little games, and gave ourselves little footwashes and pedicures and got little prizes, and she advertised to us. You know how these things go.
It was only later that I realized something terrible had happened: I became obsessed with the creases in my forehead.
See, the sales pitch for one of the products went something like this:
Ladies, we all know those wrinkles on your forehead. You wake up with them in the morning, and they really show your age. Well, we have a great anti-aging product now that will get rid of those wrinkles! And even if you don't have wrinkles yet, even if you're young–a teenager, a twenty-something–it's important to start working on those creases NOW, because as you age, they will only get worse. So this is the Miracle Forehead Wrinkle Remover, now only thirty-six ninety-nine!
I don't remember the precise wording, but you get the general picture.
Now, this is a perfectly normal sales tactic. It sounds totally innocuous, and was said by a person who probably believes everything she was saying. But this kind of statement was poison to me.
For the next THREE MONTHS, all I could see when I looked in the mirror was the creases in my forehead. I'm a very expressive person, so of course I've got creases from all my facial expressions. And although I was in my upper twenties, I have very young-looking skin, so my face probably looked about twenty-two. These weren't even wrinkles yet, they were (and still are) only creases.
And yet I couldn't stop looking at them. I couldn't stop obsessing over them. BECAUSE OH MY GOD EVERYBODY CAN SEE MY FOREHEAD WRINKLES AND THEY THINK I LOOK OLD AND IT'S ONLY GOING TO GET WORSE FROM HERE!!
And I'm a grad student, so I DON'T HAVE THIRTY-SIX NINETY-NINE TO SPEND!
Yeah, I've got anxiety issues, and that didn't help, but let's face facts: MOST women in our society are anxious about their appearance. What I went through is nothing out of the ordinary.
I finally realized: this is what makeup advertising–ALL makeup advertising, apart from like, facepaint–does: it creates a need in order to fill it. It makes you think you have a problem so you can get rid of that problem–and give them money in the process.
I genuinely saw an advertisement a couple of years ago for a blemish remover that promised to eliminate your pores.
*prepares megaphone:* PORES ARE NOT BLEMISHES. THEY ARE SUPPOSED TO BE THERE. NEXT THEY'LL BE TELLING US WE NEED TO GET RID OF OUR NOSES.
Speaking of which: you know these things on your nose?
"EW!" I hear you say. "BLACKHEADS! GET THE NOSE-STRIPS!"
Actually, those are not blackheads. They're sebaceous filaments. And here's something the nose-strip makers never told us: THEY'RE SUPPOSED TO BE THERE. THEY ARE A HEALTHY PART OF YOUR SKIN. Ever had a problem with dry skin? That's what those things are there to fix. "[Sebaceous filaments] are naturally occurring teeny tiny hairline formations on your skin that channel or wick oil from your pores onto your skin to moisturize it" (source). So what are blackheads? It's when your pore gets clogged from the outside and the sebum can't get out: "When things like dead skin or cosmetic build-up get into your pores and plug them up, and that pore is still producing its normal amount of sebum, that's when it becomes a whitehead or blackhead." ("A blackhead is a solitary eruption on the skin, while sebaceous filaments form an even, random pattern throughout an oilier area of your skin such as your nose or chin" [more info].)
See that? "COSMETIC BUILD-UP" CAUSES BREAKOUTS.
When I was in high school, I had a Mary Kay saleswoman (NOT the really nice one from the above story) tell us all that you have to use foundation to protect your skin from air pollution! Using foundation is how you keep your skin clean!
Um… No. Using foundation can clog your pores and CAUSE acne. …And then the makeup company will sell you more products to "fix" your acne. It's a never-ending cycle of profiting off of women's insecurities.
I'M OUT OF CONCEALER! HOW WILL I EVER HIDE THE EVIDENCE THAT MY BODY IS NATURALLY MOISTURIZING MY SKIN TO KEEP ME HEALTHY??
Now, I'm part of the community on Tumblr, a community that is very interested in women's rights, feminism, gender equality, women's issues… But also a community that is made up mostly of young women in high school and college, often when they are most self-conscious. And what I have run into again and again is this argument: "Don't talk badly about makeup! Makeup is a FEMININE ART that has been denigrated by the patriarchy! If you speak badly about makeup, you're exhibiting internalized discrimination!!"
It is true that there are a lot of messages about makeup out there that are part of patriarchal oppression. When men–and society in general–tell women through the entirety of our media that we need to look like airbrushed supermodels and then tell us that we look slutty with too much makeup on… That's definitely a problem. But that doesn't mean that there aren't HELPFUL arguments against the makeup industry. Here's mine:
The makeup industry sets the bar for attractiveness at an unattainably high level through photoshopped and professionally lighted visual ads, tells us that it IS attainable if only we buy the right products, lies to us about what those products actually do, sells us more products to fix the problems they caused in the first place, and then tells us that they support feminism by supporting a "women's art."
They're not. They're not supporting women. Mary Kay salespeople will tell you that Mary Kay is selling self-esteem, so that women who have always felt bad about their appearance can feel good. What they have actually done is helped women feel bad in the first place, and then told them that giving makeup companies money is the answer to their feeling badly about themselves. I've got news: if you don't like yourself except when you're wearing makeup, then you actually don't like yourself. And it's partly the makeup industry's fault.
So what on earth are we supposed to do about this problem?
Well, we COULD try for legislation that limits airbrushing or photoshopping, but that's almost impossible, considering how all-pervasive photoshopping is in advertising in general (and how much the government relies on the support of big businesses, but that's a rant for another day). We could put pressure on individual companies to make changes in their advertising… But that would be a real uphill climb, only a piecemeal solution, and would also imply that the makeup industry isn't inherently problematic. Which… it IS.
The solution, I believe, is a grassroots cultural change in our behavior. If we stop giving makeup companies money, their businesses will shrink, and many will eventually fail. Other industries can take their place as employers and as providers of more mentally and physically healthy goods and services.
I'm not going to lie: for most women who uses makeup, going off of it is going to be really difficult. Many of us shape our mornings and evenings around our makeup/beauty routines. Many women feel that they cannot leave the house without wearing makeup. We're afraid that potential romantic partners will be turned off by us, that fellow women won't respect us.There are even incentives to consider in our jobs: if I'm not what our society considers physically attractive, will I be able to get that promotion?
This is why it needs to be a communal movement. We need women who are brave enough to step out and reduce or eliminate their cosmetic use, as well as spreading the message about our society's unhealthy makeup addiction. Once enough women are going bare-faced, more and more women will feel comfortable doing so, and flipping a big ole bird at at the cosmetics industry. We need to take back our pride in our own faces: forehead creases, sebaceous filaments, and all.
How to genuinely keep your face clean:
–If you DO wear makeup, make sure you take it off thoroughly before you go to bed! Leaving it on can cause breakouts.
–For most people, moisturizer is unnecessary! Only about 15% of the population actually needs moisturizer. How do you know if you need moisturizer? Do you have problems like eczema or invisible pores? If not, you don't need it. If you're not one of that 15% of people, don't use moisturizer! It can inhibit your skin's natural ability to moisturize itself and helps to cause acne. (But if you ARE going to put on moisturizer, wash your face first.)
—Wash your face no more than twice a day–once in the morning and once at night. In fact, especially if you don't have excessively (and I mean, like, doctor-diagnosed) oily skin, you probably only need to wash it once: right before bed. That way you wash off all the dirt, dead skin, and oil you've accumulated over the course of a day. Don't worry about there being a lot of dirt and oil in your pillowcase; it isn't really a problem. And if it still worries you, just wash/change your pillowcase often.
—Avoid washing your face with soap. Soap messes with your skin's natural oil balance and can actually cause your face to become MORE oily! Unless you've gotten something on your face that you can't get off without soap, just wash your face with warm water and pat it dry. That's it!
—Avoid touching your face with your hands. Your hands are covered in dirt, bacteria, and oils. When I stopped resting my chin in my hand, my chin pimple problem went away almost overnight.
–Though you may have heard that you should use sunscreen every single day, there actually isn't good evidence that the daily use of sunscreen prevents skin cancer. I mean, definitely use it if you know you're going to be out working in the summer sun, or going to be swimming. (I purposefully don't include tanning in there BECAUSE DON'T GO TANNING IN THE FIRST PLACE.) But daily sunscreen use is pretty much as purposeless as daily moisturizer use, and certain kinds of sunscreen can cause acne and break-outs.
–Dermatologists warn that popping pimples can cause scarring and other skin issues. And I have to admit that I have never been able to NOT work at popping a pimple if I found one. However, I also often end up scratching or otherwise injuring my skin trying to do so, especially if the pimple is still a bump without a head. If you DO pop your pimples, wash your hands beforehand and your face afterward to get all that extra oil and dirt off of it!
–If you're doing these things and are still seeing signs of a serious skin condition like chronic dry skin or bad acne, see your doctor.
Testimonial: Since I stopped using any kind of powder or concealer on my skin and have stopped washing it with soap, my skin has become considerably clearer and healthier-looking. Give it a try!